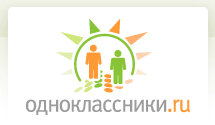 The leading Russian social networking site, Odnoklassniki.ru (Одноклассники.ru) has reached 30 million registered users. It's been less than 3 years since the site was launched in March 2006. The social network is visited by more than 8 million users per day. Odnoklassniki.ru CEO, Nikita Sherman recently said that the site generates half of its revenues from subscription-based services.
Odnoklassniki.ru closest Russian competitor Vkontakte (ВКонтакте) has over 28 million registered users and 1.4 billion page-views per day. According to TNS Web Index, Vkontakte had a monthly audience of 13.09 million in Russia in January 2009, which was slightly higher than the audience of Odnoklassniki.ru
comScore reported that Russia's social networking audience of 18.4 million visitors was the fourth largest in Europe last December behind the U.K. (29.3 million visitors), Germany (24.9 million visitors), and France (21.7 million visitors).