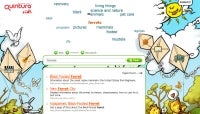 PCWorld.com blogger Rick Broida has reviewed Quintura for Kids in his article "Keep Kids Safe Online: The Quintura Search Engine" on the blog: Hassle-Free PC.
Here is an explanation why Rick turned to Quintura:
"Because I can't monitor my kids' computer activity every second of the day, I'm starting by replacing Google with Quintura. This kid-friendly search engine lets you type in a query and/or click your way through a word cloud and get G-rated results in return."
Since 2007, the teachers and librarians of more than 1,000 elementary schools in the US, Canada, UK, Australia and New Zealand have been using Quintura for Kids, a kids-friendly search engine developed and operated by Quintura.