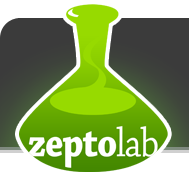 Cut The Rope developer ZeptoLab has reached 3.5 million downloads of its game for iPhone, iPad and iPod touch. The game was downloaded 1 million times only 9 days after release on October 5. The Cut The Rope game, which costs $0.99 at iTunes App Store, has been on top of App Store charts ever since.
That would imply the game grossed at least $3.5 million in sales in only two months, thus likely beating Rovio Mobile's game Angry Birds.
Founded in 2010, ZeptoLab is run by Moscow-based brothers Semyon Voinov and Efim Voinov. Prior to founding ZeptoLab together with his brother, Semyon Voinov worked as lead artist at game publisher Digital Chocolate in Helsinki, Finland. The Voinov brothers made a presentation of ZeptoLab at TechCrunch Moscow event last Monday.
Cut The Rope was develoled by ZeptoLab and published by Chillingo for iOS. Previously, ZeptoLab developed iOS game Parachute Ninja.
The Christmas version Cut The Rope: Holiday Gift is now available for free at iTunes App Store.